Decorate with a Conscience
Image Credit:  Also Home
A plastic-free life is something that we're all being urged to strive for, and I am making this a focus in my family life at the moment. But what about in my professional life? Is it possible to decorate your interiors sustainably and still create luxury interior design? Well – yes!
Once you start looking, there are suppliers, artisans and manufacturers out there who are working hard to improve the sustainability of their products, cut down on the use of petro-chemicals and use repurposed or recycled products.
One of my favourites is Edward Bulmer. His range of paints use natural pigments and raw materials produced sustainably, and because there are no chemicals he can truly call them 'healthy paints'. 
But eco-friendly and ethical doesn't mean you have to compromise on the look. The 72 colours he has developed have such warmth, depth and honesty that I'm sure you'll find one to fall in love with for your scheme.
A new British lighting brand Tala have created a beautiful sculptural bulb that combines hand blown glass with LED technology called Voroni III.  Tala endeavour to create the most sustainable lighting products on the market but they recognise that the manufacturing process itself contributes greenhouse gases.  They have created a programme called Ten Trees and plant 10 trees for every 200 sold which means they run a carbon neutral business.  Clever, ethical and stylish, we love their bulbs.
On the smaller scale, how about a desk stocked with beautiful paper made from take-away coffee cups? G. F. Smith and their recycling partner can recover about 90% of your discarded latte cup and turn it into Extract paper. Beautiful and virtuous, what's not to like?
As an interior designer, I have long used and appreciated Fox Linton's sumptuous fabrics, based on an enduring but changing neutral colour palette.
I wouldn't automatically think of them as ethical heroes because of the luxury look and feel of everything they do. But they strive to make their brand as sustainable as possible, using natural processes, supporting local mills, monitoring their supply chain to ensure the highest ethical standards. And their trend-busting fabrics are the very antithesis of the throw-away society, designed and manufactured to endure for years in your living room or bedroom.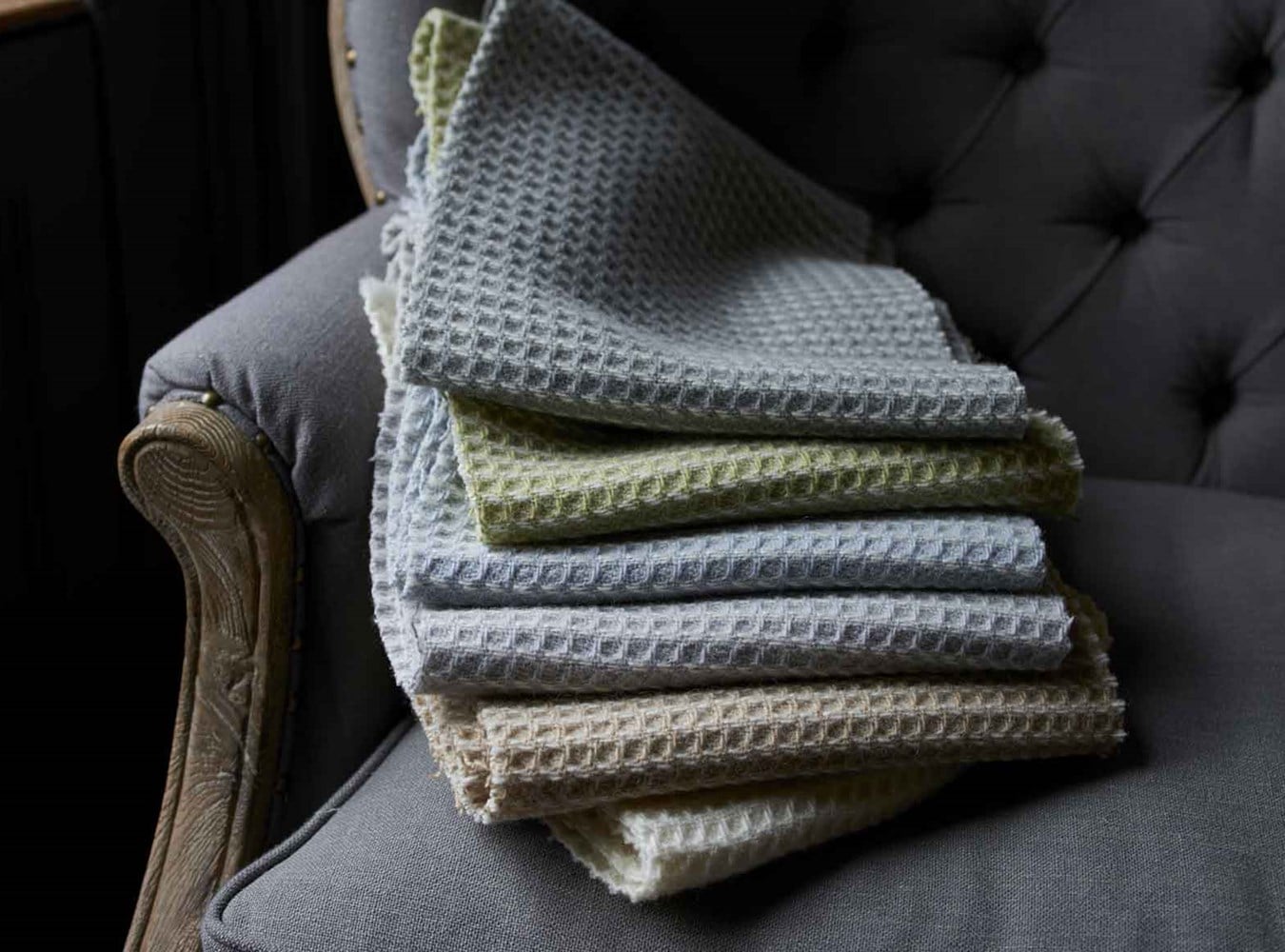 Newer on the scene are the truly ethical Wicklewood, the younger sister company to Blithfield. Wicklewood support craftswomen in India, Guatamala and elsewhere to produce contemporary fabrics using traditional techniques.  They produce an inspiring range of cushions, throws and rugs in complementary palettes.
Artisanne also work directly with women to cut out the middleman and ensure their weavers receive a fair and secure income for their handwoven baskets. Laundry baskets, wastepaper bins, toy storage – ditch the plastic and choose these stunning handwoven alternatives that support women directly.
Finally, I want to give a mention to Resilica. Maybe you're thinking of new luxury kitchen work surfaces, or a unique bathroom vanity unit? The Resilica people take 100% recycled glass waste in the UK and mix it with a solvent-free resin to make twinkly, bespoke worktops and surfaces. Definitely one to keep in mind for future projects. Here's hoping you feel inspired to make an ethical swap here and there in your home.